RAM_001: BOTPOEM & BUGYELL - SUEISFINE EP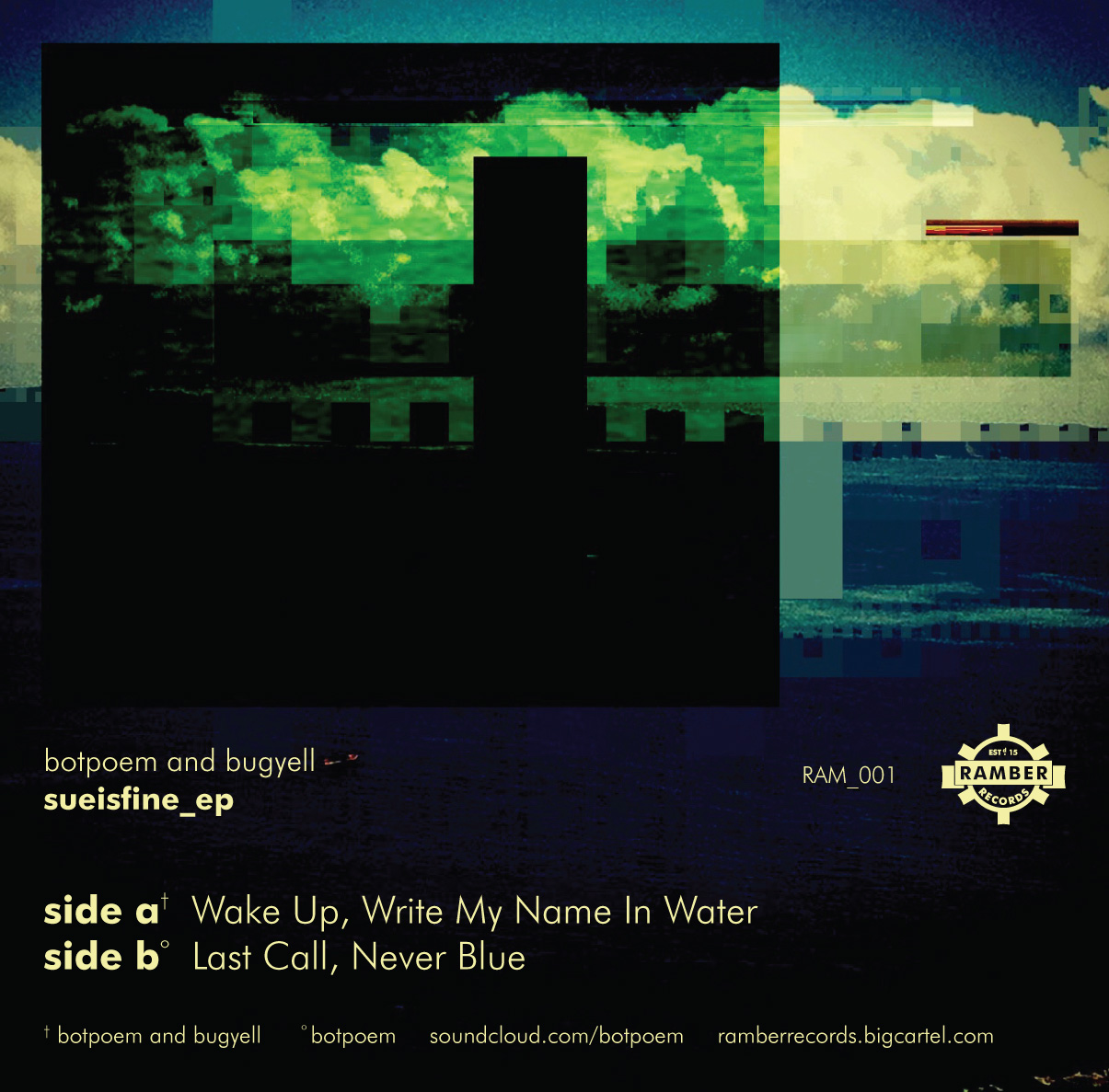 RAM_001: BOTPOEM & BUGYELL - SUEISFINE EP
C16 neon green-shell sueisfine EP by Botpoem & Bugyell with J-card and download of all 4 tracks. Released March 2nd, 2015. Run of 25. 0 left in stock.
Side A (Botpoem & Bugyell): 1. Wake Up / 2. Write My Name In Water Side B (Botpoem): 1. Last Call / 2. Never Blue
French ex-pat and current Manchester, UK resident Maxime Lallement is botpoem and half of his experimental sueisfine EP was composed with a "dear friend" who sadly passed away in January 2014.
Celebration and epitaph, Glen Fobister was making music at the time under the name of bugyell, as well as writing a novel. No prizes for guessing its title. With the help of Lallement he planned to release it as a soundtrack-abetted audiobook. The project was never to reach completion. Lallement now wants fragments of the soundtrack to live, testament to the enjoyable period in which it was made.
The rousing opening track was, ironically, intended for use in the novel's final scene in which the main protagonists – a rock band called Orpheus Smashed To Pieces! – are playing their very last gig. It's an impressive statement driven by a monumental beat, industrial-fired crunches joining urgent strings and atmospheric synth scan for a vibrant collision of electro-noise. Originally written by Fobister and reworked for the sueisfine EP by Lallement, the relaxing ambience of "Write My Name In Water" is then pure reward, running water sampled amidst a barely-there tickling of ivories.
On the flip are two original botpoem compositions. A series of confrontations, they pit glitch against piano in a stream of competing tempos, cut-and-paste choral harmonies spliced into a soothing mew. Deceptively simple, "Never Blue", on the other hand, is an utterly beguiling piece of emotive piano, stripped-back hammers on splendidly isolated strings.
Sueisfine the novel was tragically never meant to be. What exists of the sueisfine soundtrack manages nevertheless to sing its praises to the heavens, botpoem's complementary flip the flowers at the funeral.
*When making a purchase, your email address and name will be added to our Mail Chimp distribution list for marketing purposes. Unsubscribe links are available in all our correspondence.*
UK SHIPPING: £1
REST OF THE WORLD SHIPPING: £3
sold out